#SADecided
The Cape Town office of the Heinrich Boell Foundation in conversation on the 2019 South African Elections
"While the team had diverse views on the contested areas of South Africa's political landscape, all agreed that a consolidation of Ramaphosa's political power now very much depends on his new cabinet. This will not just be determined by his political will alone, but also his ability to manoeuvre through the tricky corridors of the ruling party's house of cards."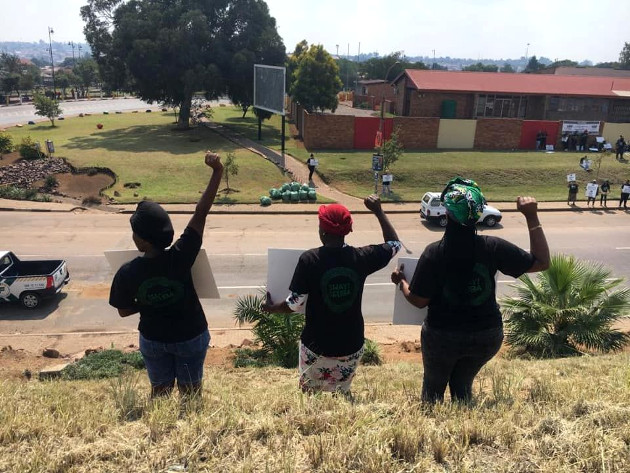 It is mid-May 2019, and only a few days since South Africans put pen to paper, casting their votes in the country's sixth national and provincial election since 1994: arguably the most contested election since the dawn of democracy 25 years ago.
The results are in. While the African National Congress (ANC) has retained political power for another five years – having reeled in 57.51% of votes cast nationally – it has not been able to reverse the downward trend of the last few elections (69.69% in 2004; 65.90% in 2009; 62.15% in 2014). The official opposition Democratic Alliance (DA), although performing poorly, as expected by many, still managed to hold on to the Western Cape province despite various scandals of late, attesting the solid track record they've established in leading the province over the last 13 years. Meanwhile, the relatively new leftist Economic Freedom Fighters (EFF) emerged rather victoriously, with an increase in the national votes cast from 6.35% in the previous elections to 10.79%, and is now the official opposition in at least three provinces of South Africa.
Many have attributed this year's results to a robust electoral contest, which can only be beneficial in the democratic saga. Recognition of the ANC as the force behind the anti-apartheid struggle has granted it a majority over the years, as South Africans consistently voted for a party that liberated the country and its people. But one could say that this support has increasingly been earned from historical credit and not political performance. Times are changing and myriad intersecting factors are influencing the decline in the ANC's electoral support.
The staff of the Cape Town office of the Heinrich Boell Foundation (HBF) – a diverse group of people, some of whom were entitled to vote, while others, by virtue of their citizenship status, were not – recently came together to reflect on what the 2019 elections meant for them, for political parties, and for the future of South Africa. The conversation exemplifies the mood of this political season. These elections took place in a country faced with the need to dismantle the billowing effects of predatory politics over the last few years, while still trying to heal from the wounds of its colonial and apartheid history, and holding on to hope that the promises of a "new dawn" will materialise. This is what we had to say.
Voting in 2019 – what was different about these elections?
"This year I saw less of a positive energy," recounts Carmelita Witbooi, HBF office manager. "Most campaigns were aimed at what the ANC was doing wrong, 'taking back our power', 'fixing SA', etc., without giving thought to how you, as a party, had actually contributed to the situation, and why we, as society, needed to take back our power, why SA needed fixing. And there was also no plan put out on what you plan on doing – other than the rainbow-in-the-sky type of sales-pitches we were getting. Within my community, there was the sense of wanting to vote, to do the right thing, to participate, but really sitting with the problem of not knowing where our vote would be going. I spoke to several people who had the same sense of almost despair."
Finance manager Neila Pillay joins in. "I, too, had very mixed feelings about the elections. I didn't really know what party I should vote for this year, whereas this wasn't the case when I first voted. In 1994, I was very sure of which party I wanted to vote for. I definitely didn't have the same confidence, as there are so many parties, each with their own agendas. But there's also a general lack of trust in these parties, so I really didn't know who I was going to vote for."
"For me, this was probably one of the most crucial elections ever," reflects bookkeeper Lamese Abrahams. "For the past 25 years, instead of going forward we have actually taken years away from where we were supposed to be. Yes, with the 1994 elections, lots of positive changes took place, but for how long will our country and the new generation who did not suffer under apartheid be held at ransom for past failures? We have so much potential and live in such a versatile and culturally rich country. Why would we want to stay the way we are and stagnate? We really needed something to shift!"
"I agree with what all these sentiments. I had the same feelings, thoughts and fears, really," admits finance officer Lynn Basson. "A lot of the people that I know socially did not have much interest in these elections. People were just following the motions of voting, not really caring a whole lot, while others didn't vote at all. But as a citizen, you have a duty to your country to do your bit. If you don't know who you want to vote for, at least vote against those you definitely do not want in positions of power. It's good to shake things up, but at the end of the day we need credible leaders."
What about the election results really surprised you?
"Some of the results were anticipated. We knew the ANC and the DA would lose votes and the EFF would grow in numbers. But then there was the right-wing Freedom Front Plus (FF+) that no one really talked about before elections, so they were somewhat of a surprise.1 Provincially, what was also somewhat surprising was the ANC's ability to retain Gauteng despite losing the two metros [Johannesburg and Tshwane] in the 2016 local government elections. Their win has provided the ANC reformer camp a necessary boost, and somewhat put a damper on the notion of the ANC fast becoming a rural party," says International Politics programme manager Jochen Luckscheiter. "KwaZulu-Natal is also interesting," he continues. "The Inkatha Freedom Party (IFP) resurged and the EFF made surprising inroads, displaying their ability to grow nationally. This needs to be watched in future, considering that KZN is after all the second-largest province [by population], and also the most volatile and violent one.
"The surprise beyond the actual results was, of course, the low voter turnout, and this attests to what Carmelita said earlier. The voter turnout was much lower than what everyone would have thought and speaks to the damage that has been done over the last five years to the trust in the democratic process. Young people especially appear to think that politics is a game played not in their interest. The interesting part is that people aren't disengaged: they march, they protest, they comment through various media platforms. So there is politics and consciousness, but outside of the political party system. This should make all parties think."
According to Democracy and Social Justice programme manager Thokozile Madonko, "The resurgence of the FF+ perhaps should not have been a surprise, given both the local and global rise of right-wing politics. Using the Trump-like slogan of 'Fight Back' ('Slaan Terug'), the FF+, a mainly white and Afrikaans-speaking party, appealed to those South Africans who consider themselves under attack. I believe this is part of the divisive rhetoric on the part of the political parties, be it the FF+'s 'Fight Back' or the anti-immigrant sentiments expressed by the ANC and the DA.
"Unlike Jochen, though, I'm not that surprised by the low voter turnout. It most certainly is reflective of people's loss of confidence in the democratic system, especially considering that not much has changed for the majority of our citizens, especially poor, black women. This is despite women voters making up more than half of the voting public. But what really surprised me," Thoko continues, "is that, if the voter turnout of 66% is taken into account, the ANC's share of the national mandate actually drops to 35%. And if the registration rate of 74.5% is added, it paints an even bleaker picture. In other words, the ANC is really governing with the active consent of little more than a quarter of the South African electorate. In fact, more than half of the electorate did not even vote."
What are the factors that have changed or still need to take place to change the status quo?
"Certainly a factor that emerges is the breadth of political choices available to a mostly young generation of voters who cast their vote on the basis of real-time politics. In fact, I recently read that a total of 48 political parties contested this election, versus 29 in the previous elections, which is staggering! Another factor is that, despite still securing the majority of votes, faith in the ruling party is obviously fading, and with that, the eagerness for change in the course of the country's political affairs is rising," acting director Paula Assubuji responds.
"From my side, though," chimes in office assistant Vuyokazi Mahomba, "I think the ANC was very wise to let former President Zuma go before the elections because people like me went to vote because the ANC is being led by President Cyril Ramaphosa. I think he will do much better than the former president."
"I agree, Vuyo," says Sustainable Development programme manager Keren Ben-Zeev, "but with 57% of the total vote, and the close win in Gauteng, it is no longer impossible for the party to contemplate its own electoral defeat. This may give Cyril Ramaphosa some leverage in reforming the party. This remains to be seen.
"Fortunately for the ANC," she continues, "while they are no longer guaranteed a win, they are in a position where there are simply no credible alternatives. The merger of the DA with the Independent Democrats in 2014, and the subsequent efforts to transform the party into one that commands a more representative electorate have failed. Ironically, despite failing to offer meaningful responses to much-needed redress and redistribution imperatives, or even simply black economic empowerment, and losing many of its young black talent along the way, the DA lost significant votes to the Freedom Front Plus. It now remains to be seen whether the DA will attempt to win those voters back, or whether it will use this as an opportunity to shift itself further away from the right-wing FF+. The DA's confusing and reactionary election campaign – look at their 'One South Africa' and 'Keep the EFF and ANC out!' posters, hanging side by side – suggests that their first impulse was to stem the losses."
So what does the future hold?
"I think we're a maturing democracy," Neila says. "In the past, we just wanted to be liberated, but now, going forward, we want our democracy to be very vibrant and to hold our leaders accountable. Therefore, we need different parties to have a very robust debate and not allow leadership to just get away with it. And I'm okay with the diversity. I feel we do need that! I also like the fact that women now make up 45% of politicians elected to parliament [from 42% previously]. This is a good increase."
Carmelita continues, "When the day finally arrived, I cannot say I felt any good when doing what I felt was right – using my right to vote. I left in a pensive mood, but also more determined to empower myself around how to keep who I voted for accountable. And days later, that was my light-bulb moment. Even though I perceived the elections very negatively, we as voters are being inadvertently empowered and changed into more informed voters. And all political parties better be on the lookout. Their present conduct is creating an animal they might never have anticipated or wanted."
"And this is what very much influenced how I voted this year," adds Claudia Lopes, who manages publications and the Gender-Based Violence research programme. "I didn't want more of the same. Due to the nature of my work at HBF, I follow the goings-on in parliament quite extensively and, to be honest, this was the first time that I stepped out to cast a different vote from the usual… I voted for a party that I could truly see cares about the issues that I'm passionate about," she says. "I'm confident that the party I voted for will continue to drive a human-rights – especially a women's – agenda, and will continue to focus on efforts to address GBV, especially making sure that there's sufficient budget allocated to imperative services like shelters for abused women. And if they don't, well, I will need to remind them."
"Accountability here is key," agrees finance officer Qondile Mayeskiso. "But not only looking forward. I also want all those who have been involved in corruption to face the music. From my side, jail time will not do any good. I need to see state funds being recovered and all of those who have benefited to give back to all affected areas."
Vuyo agrees with Qondile: "I would also like to see President Ramaphosa act on corruption. He also needs to elect a clean cabinet – people who are open, honest and transparent, people that will ensure service delivery and that will create job opportunities for those unemployed. The three main parties I think will work much better now. I think we're getting there."
Keren says she thinks Vuyo is right, but she cautions, "There remains a major gap – that of a viable alternative to the ANC, a party that is committed to good governance but also offers an uncompromising pro-poor policy programme, together with facing realities such as climate change. The absence of a viable alternative also means that, although SA's democracy is ageing, it is not necessarily maturing into a two- or three-party system. For the foreseeable future, the only alternative to the ANC is a coalition. As other local government municipalities have shown, this comes with the risk of instability and without a demonstrable improvement for residents. Without a viable alternative, which at the moment seems unlikely, the most credible alternative to the ANC governing alone is a coalition of the ANC with another party. In this, the EFF will be the most likely winner."
"The EFF certainly represents the most prominent of these political choices," adds Paula. "The party's political proposals to reverse the systemic socio-economic disenfranchisement emblematic of the apartheid era offers recourse to those disillusioned voters, appealing especially to black youth."
So, what's the final prognosis?
Paula continues, "The final results are indicative of South Africans' trust to give the 'liberation party' yet another chance to materialise the constitutional promise of a democratic, cohesive and prosperous society for all who live in it. This victory for the party might be understood as a clear expression of voter confidence in the stewardship of its current president, Cyril Ramaphosa, as declared in some media headlines: 'Cyril Ramaphosa saved the ANC.' For Ramaphosa, however, the battle for political survival is far from over. The backing from the voters, albeit fading relative to previous elections, does not necessarily mean that he has strengthened his position as a leader inside the party.
"I mean, since taking over the ANC's presidency in 2018, Ramaphosa has demonstrated the will and skill to lead the country's undertakings against the deeply rooted capture of the state's institutions and its resources by what I would call a thriving rent-seeking political leadership established during the Zuma era. The responses to this state capture by the Ramaphosa administration clearly indicates that the battle did not go smoothly inside the party though. The camp loyal to Jacob Zuma – the so-called 'fight-back brigade' – is still in lead control through ANC secretary-general Ace Magashule. The reform-and-renewal agenda has those party circles frightened of losing power or their easy access to it. These circles are also at risk of prosecution and possibly conviction for corruption and looting of public resources. And defiance of Ramaphosa's leadership by Ace continues to downplay Ramaphosa's popularity, so he has a lot to contend with in the future."
And with that, the conversation between this dynamic group of colleagues wrapped up in time to hear President Cyril Ramaphosa announce his new cabinet. He did so with a number of surprising twists and shifts – some positive, while others not so much. Chief among the positive shifts are a reduced cabinet, from 36 to 28 ministers, and an increase in the number of women and young people taking up positions of power. On the flip side, this restructuring has also seen a number of questionable ministerial reassignments, such as the new minister of social development – the very large and incredibly important department tasked with the social welfare of the country's citizens – who appears to have no experience in this area. A cautionary tale if there ever was one, but time will tell if a new dawn has indeed begun.
While the team had diverse views on the contested areas of South Africa's political landscape, all agreed that a consolidation of Ramaphosa's political power now very much depends on his new cabinet. This will not just be determined by his political will alone, but also his ability to manoeuvre through the tricky corridors of the ruling party's house of cards.
Regardless of their victory, the results of this year's election should be an alert to the ANC that historic loyalty to the liberation party is no longer a guarantee for electoral victory. It should be a decisive signal to those in the ANC leadership who are opposed to the party's renewal program. Eventually, reason must prevail over greed and the party will have to reverse from its self-inflicted destruction, allowing Cyril Ramaphosa to steer the country towards a new dawn. If not, then the voters will…
NOTE
1 The FF+ received 2.38% of the national vote, up from 0.9% in 2014, earning itself 10 seats in the National Assembly.