Interview
HBF interviewed social movement activist, Chumile Sali to get his views on ​state-civil society relations in South Africa. ​​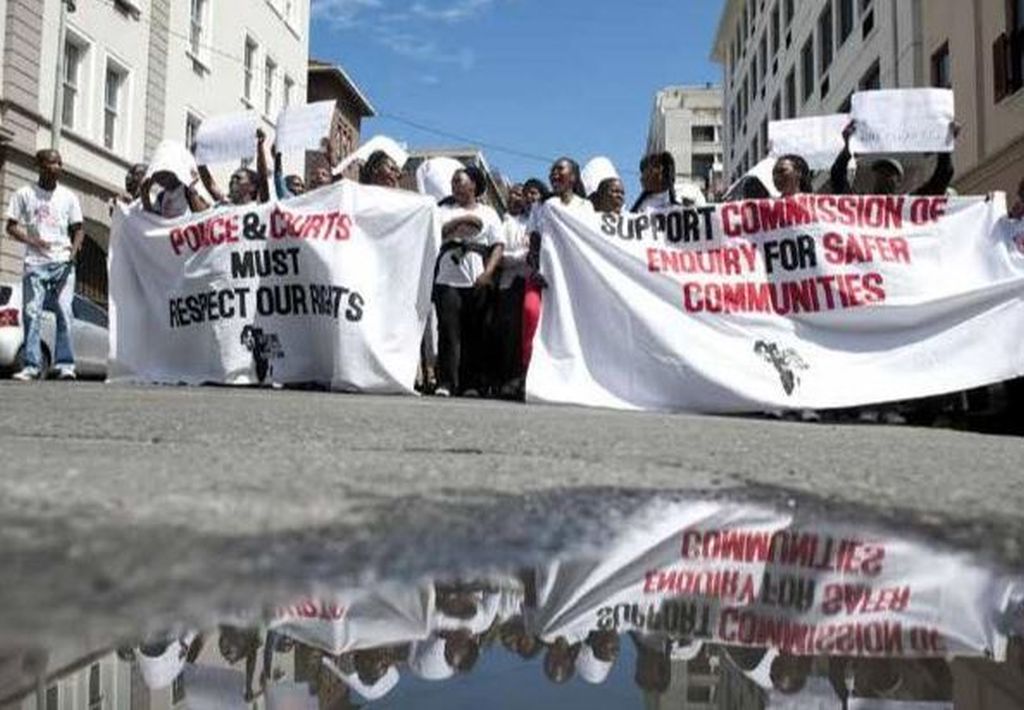 HBS: Representatives of the South African government are increasingly reverting to negative characterizations of non-governmental organisations (NGOs). Do words matter?
Sali: Words do matter. The negative characterisation of social movements by political leaders is aimed at mobilising communities against them. Social movements in South Africa are often referred to as part of the "third forces" and "regime change agents" that seek to destabilise and overthrow the democratic government. For example, the minister of state security responsible for the country's intelligence sector, David Mahlobo, has labelled NGOs as "enemies of the state" and "counter–revolutionary". Such allegations are absurd and baseless.
Social movements and NGOs in South Africa are advocating for the respect and implementation of the provisions of the Bill of Rights enshrined in our Constitution. The Social Justice Coalition [SJC] in Khayelitsha, Cape Town is advocating for access to basic services such as toilets. How is that campaign for access to services an agenda to overthrow the state?
Political leaders are hiding their failures behind inflammatory words and rhetoric. This has, to a certain extent, impacted on the attitudes of community members against social movements. I remember in October 2015, we were advocating for a fair re-allocation of police resources in black communities. I received a text message from an ANC [African National Congress] ward councillor in Khayelitsha that read, "SJC is a truly counter-revolutionary organisation. It needs to be nipped out of our society."
What other developments do you observe that threaten to close down the space for civic engagement?
A major threat to civil society is the harassment of activists and social movements by state security agencies.
Many different examples can be cited here: the surveillance of activists by state intelligence services, as documented in Right2Know's report, Big Brother Exposed; the disappearance and subsequent arrest of Vusi Mahlangu, an #OutsourcingMustFall activist in Umtata, East-ern Cape in March 2016; or the detention without trial of some SJC members while collecting evidence for the Khayelitsha Commission of Inquiry that investigated the breakdown of relations between the South African Police Services and the community of Khayelitsha.
The attempted murder of Andile Lili, the leader of Ses'khona People's Rights Movement in Cape Town, or the killing of EFF [Economic Freedom Fighters] supporters in hostels in Tembisa, Johannesburg during the local government elections campaigns in 2016, exposes the high level of intolerance and willingness to use violence against political opponents in our country.
In May 2016, the Durban High Court found guilty two ANC councillors for the murder of a branch chairperson of Abahlali baseMjondolo. Thuli Ndlovu was silenced by machine guns and bullets because she fought and advocated for the restoration of dignity of black people residing in informal settlements. Thuli is one of many Abahlali base Mjondolo members who lost their lives because of their activism. Unlike in Thuli's case, in most cases of violence against activists there are no arrests or convictions made.
The February 2015 anti-TAC [Treatment Action Campaign] protest by the ANC Youth League in Free State is also worrying. The ANC Youth League called for the de-registration of an organisation that is doing nothing but advocating for better healthcare services for black people in that province.
Lastly, there is the current stance by the public broadcaster, SABC, to broadcast more happy sunshine news and to not broadcast violence and "sad" news. This is a direct attack on civil society and active citizenry. The SABC attempts to delegitimise the campaigns of grassroots organisations and other movements that dare to question the government. The SABC's action also closes space for critical engagement and deprives South Africans of a right to fair and unbiased information.
To what extent does legislation play a role? Are there efforts to introduce restrictive NGO regulation?
In June 2016, Africa Confidential reported that there is a draft legislation that is aimed at closing the space for NGOs in South Africa. The publication alleges that the draft legislation intends to monitor foreign funding of NGOs in South Africa and also threatens deregistration of the so-called "enemies of the state". Nothing has been made public as of yet.
But there are also other pieces of legislation that threaten civil society and the fundamental values and principles of our Constitution. This includes the Protection of State Information Bill, which seeks to muzzle whistle-blowers and, among other issues, is in contravention of section 16 of the Constitution, which guarantees freedom of expression. This so-called Secrecy Bill has however not been signed into law yet and has been gathering dust on President Zuma's desk since November 2013.
In October 2015, 94 community healthcare workers in Free State province were found guilty in the Bloemfontein Magistrate's Court for contravening the Regulation of Gatherings Act. The workers held a peaceful night vigil calling for the betterment of healthcare services in public hospitals.
The Regulation of Gatherings Act criminalises activism. Fifteen or more people gathering for a political cause and human rights issues are deemed criminals if they were not issued a notice by local authorities, and yet 15 or more people gathering to watch a football match or a public music concert in a shopping centre are not deemed to be criminals. The Regulation of Gatherings Act is intended for a police state and not for a constitutional democracy.
SJC has its very own experiences with the Regulation of Gatherings Act. Tell us more about them.
In September 2013, 21 SJC activists were arrested for chaining them-selves outside of the Cape Town Civic Centre. The activists were peacefully requesting the mayor of Cape Town to improve sanitation facilities in the 204 informal settlements in Cape Town.
The 21 activists were charged for contravening section 12 (1) (a) of the Regulation of Gatherings Act. In April 2015, 10 of the 21 activists were found guilty and were handed a suspended sentence. In the judgment, Magistrate Alta Fredericks found that there is a reasonable prospect that the Regulation of Gatherings Act may be found unconstitutional by the High Court and convictions may be set aside.
The Social Justice Coalition views the Regulation of Gatherings Act as an apartheid piece of legislation that was passed in 1993 to stifle freedom to protest and to criminalise civil actions. We are therefore challenging the constitutionality of the Act. Criminalising the convening of a gathering merely because no notice was given in terms of section 12 (1) (a) of the Act limits the right to freedom of assembly enshrined in section 17 of the Constitution of the Republic of South Africa.
Such limitation is not reasonable and justifiable in terms of section 36 (1) of the Constitution – the limitation clause. Therefore, section 12 of the Regulation of Gatherings Act must be declared unconstitutional and invalid. If the section is declared invalid, the basis for the conviction of 10 SJC activists will fall away.
Should the Western Cape High Court and subsequently the Constitutional Court indeed declare section 12 invalid and unconstitutional, the decision will have far reaching impacts. This will bring to an end the criminalisation of activism in South Africa.