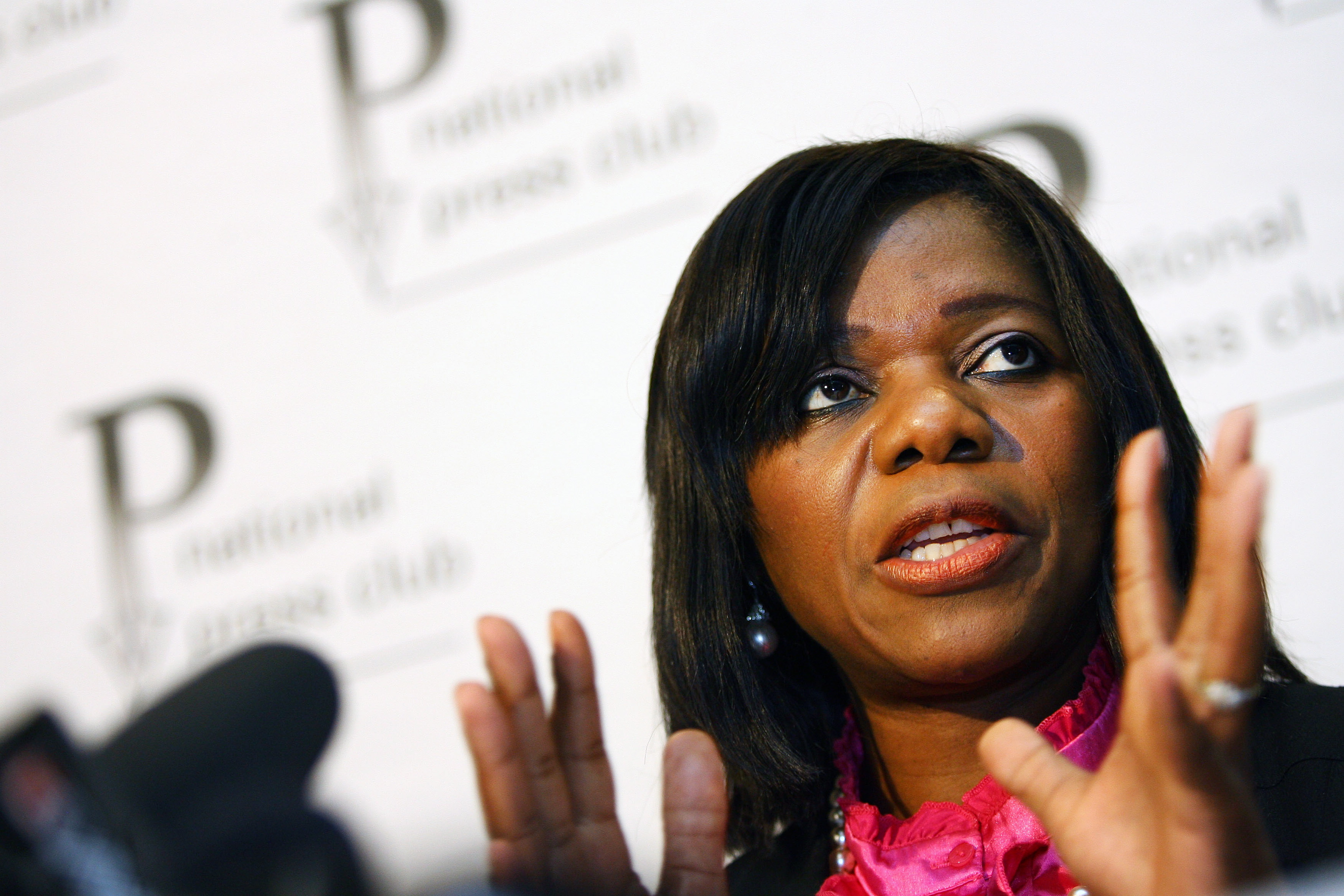 Advocate Thuli Madonsela was appointed to a seven-year term as the public protector of South Africa in 2009 by then President Jacob Zuma. Zuma's resignation from office in 2018, amid allegations of fraud, corruption and involvement in state capture, is inextricably linked to her determination and tireless investigative work. Madonsela has become a treasured citizen, recognised and rewarded for her courage and resilience, and was named among the world's 100 most influential people by Time Magazine in 2014.
One of Madonsela's most distinguishing features is the softness of her voice. She speaks gently and chooses her words precisely, demanding full and careful attention. Her quiet demeanour was raised during interviews for the position, when the chair of the appointments committee commented, "You have a calm and gentle manner, but do you think that you will be able to maintain the confidence of those who come to you ... that they will get help?" Madonsela's reply was characteristically resolute: "I have a gentle manner. But I am able to make decisions – firm decisions." These words would prove true in ways that no one expected.
The Office of the Public Protector
The office of the public protector (OPP) was established by the Constitution of 1996 as one of seven state institutions supporting constitutional democracy. Often referred to as "Chapter 9 institutions", these include the Human Rights Commission, the Auditor General and the Commission for Gender Equality, among others. The role of the public protector, outlined in Sections 182 and 183 of the Constitution, is to investigate and report on cases of alleged or suspected misconduct in the affairs of the state and public administration. Importantly, the public protector is also empowered to take remedial action on the basis of these findings. However, like many Chapter 9 institutions, the efficacy and influence of the OPP have varied since its establishment.            
Prior to Madonsela's tenure, few South Africans were aware of the work of the OPP, or its power to hold the state to account. Her predecessor, Advocate Lawrence Mushwana, was criticised by the supreme court of appeal (SCA) for narrowing the interpretation of the OPP's mandate. During the 2005 "Oilgate" investigation, Mushwana stopped short of probing allegations that state-owned PetroSA had channelled R11 million in public funds to the ANC's election campaign via Imvume, a private trader. Mushwana maintained that the OPP could not investigate the conduct of private entities, even if they were alleged to be working as proxies for public enterprises. The SCA cautioned that "if [the office of the public protector] falters, or finds itself undermined, the nation loses an indispensable constitutional guarantee", adding that "the Constitution demands that [the public protector's] powers must be exercised 'without fear or favour or prejudice' … Fulfilling [these] demands will call for courage at times, but it will always call for vigilance and conviction of purpose." Thuli Madonsela was the person to answer this call.
Redefining the Role
Madonsela created ripples within the OPP right from the start. Rather than reviewing the SCA's decision against Mushwana, she publicly committed to take the matter forward. She was prepared to think seriously about the OPP's powers, and a colleague recalled how from the first day she was very clear that this office does not only make recommendations but it also has the power to take remedial action … [She] insisted that we do a fresh examination of the text of the Constitution and the purpose behind it. I remember that she [used] this example: you have been programmed as if in an elephant circus, and you are worried that if you step on the coals  you will get burnt!
With a growing reputation for being fearless, hardworking and proactive, Madonsela's office investigated 110,000 cases. Many of these involved ordinary people facing injustice at the hands of public officials, such as problems with identity documents, social grants and housing, or adequate service delivery. Her high-profile investigations targeted powerful politicians and officials, including cabinet ministers, CEOs of state companies, a police commissioner and even members of other Chapter 9 institutions.
Madonsela's most powerful adversary was President Zuma himself. They both came into office in 2009, and Madonsela's first investigation of the president began just one year later. That case was concerned with the disclosure of his financial interests and assets. But it was two later investigations, "Secure in Comfort" and "State of Capture", that not only set the tone of the relationship between Madonsela and Zuma but would also change the shape of South African politics.
Investigating the President
During an interview in 2016, Madonsela described her initial impressions of Zuma as a "humble person" who supported the role of the public protector in a constitutional democracy. However, this was only "until investigating Nkandla" – a case that revealed massive illegal spending of state funds on supposed "security" upgrades to Zuma's private residence in rural KwaZulu-Natal.
The 300-page "Secure in Comfort" report, released in March 2014, found that Zuma had breached the Executive Ethics Code by failing to act on queries and complaints about misspending at Nkandla. Further, the president had enriched himself and his family at the taxpayer's expense. He was ordered to personally repay a portion of the public funds. 
What followed was an acrimonious two-year battle for which Madonsela paid a massive professional and personal price. In addition to public insults and humiliation in parliament, Madonsela began to receive death threats. Zuma refused to comply with the public protector's findings and recommendations for remedial action – ultimately taking the matter all the way to the constitutional court. Other government departments suddenly began to follow suit, and Madonsela worried that the office of the public protector would become irrelevant if it was seen to lack teeth. She was concerned that, if public officials could ignore the public protector, ordinary people would stop seeking justice.
Nonetheless, even as her term in office was coming to an end, Madonsela plunged into a new investigation into the alleged systemic takeover of the state by the Gupta brothers – close business associates of the Zuma family. In October 2016, she spent her last week as public protector fighting a dramatic battle to ensure that the "State of Capture" report would see the light of day. On the morning of her last day, Zuma applied for a court interdict to halt the release of the report. As she vacated the office, the country faced uncertainty about whether evidence of wrongdoing by the Zuma and Gupta families would ever be made public. Following a high court judgement, the report was ultimately released in November.
Zuma Resigns
An astute politician with a growing base of party support and patronage, Jacob Zuma had entered presidential office under a cloud of allegations – including fraud and corruption charges related to the 1999 arms procurement deal. Despite these and other shortcomings, he maintained a strong grip on power for most of his two terms in office. He survived multiple motions of no confidence in the national assembly and was protected by his party, the African National Congress, both inside and outside parliament.
But by late 2017 it was apparent that the ANC had begun to view him as a serious liability. Secretary-General Gwede Mantashe acknowledged that the findings of the Nkandla and state capture investigations had cost the party dearly in the 2016 local government elections and that its credibility remained at risk. The establishment of a judicial State Capture Commission – as ordered by Madonsela and scheduled for 2018 – will likely thrust Zuma's alleged misdeeds even further into the public spotlight. With the growing momentum of opposition to his presidency – largely due to the public protector's investigations – Zuma was forced to resign early in 2018.
Leaving a Legacy
A year and a half after she left office, it is clear that Thuli Madonsela's gentle firmness has borne fruit, and that she was instrumental in raising the standards of accountability demanded of the country's leaders.
However, it would be shortsighted to suggest that Madonsela's single goal in office was to secure the public protector's power to order the government to remedy wrongdoing. For her part, Madonsela insists that the OPP "is not a political office" and that "it does not take sides or go out to get people". She has described her intense sadness at having to release the Nkandla report, knowing its repercussions for the president. At office meetings, she regularly reminded her team of their unwavering modus operandi: "We have to look at the standard required of a particular public official, whether they breached that standard, and if so, what can be done to remedy the situation and prevent future breach."
She recognised that an elected government would resist being told what to do by a one-person commission. Despite her elevated position in the eyes of the media and the public, Madonsela insisted that most of her engagements with government were actually about "whispering truth to power", invoking the role of a makhadzi – the Venda aunt who quietly informs the chief about complaints from the people.
Madonsela was also at pains to emphasise that the job of the public protector is "not to order people around but to convince the majority – both in government and members of the public – to walk with you, and to have a common understanding on what constitutes an ethical violation". Through regular public outreach, media briefings, dialogue events and conferences with top officials, Madonsela managed to raise awareness of both ethical governance standards and the role of the OPP. Ultimately, she invigorated a larger swathe of South Africans to call out public officials who fail to meet legal and moral standards.
Courage and Conviction
Madonsela's many admirers remain curious about what drives her courage and conviction. Her son Wantu believes her strength arises from an unwavering quest for the truth, backed by a firm belief in the Constitution. "My mother can handle everything because she does her job correctly, sticks to the letter of the law, obeys the rules – and so she is beyond reproach. The Constitution is her bible, and knowing that she is acting in terms of the bible, without malice and for the benefit of the whole, gives her strength." A colleague also commented on her enduring calmness: "Even when there is a storm brewing in her spirit she can hold on to her emotions. She faced a lot of pressure over the years, but she remained calm and centred. Maturity is something that you need for this position. And she is also very spiritual."
And how does Madonsela's reserve relate to her success? A colleague who worked on the Nkandla investigation explained, "Yes, she is soft-spoken, but strong and stern. She is also an excellent lawyer. During our investigations, we have fierce debates about the law and we persuade each other … Being a woman in this environment is tricky, as sometimes people expect you to be meek. She stands her ground."
Madonsela herself is aware that outward perceptions about her have not always been accurate – and that this may have worked to her advantage when she got the job. "The people who did not know me closely did not know my personality," she explains. "But those who had worked with me closely knew that while I had a quiet demeanour, I was also firm. When I was appointed to be public protector, a former colleague remarked [that] people did not know what they are getting!"
---
---